TRADITIONAL SAUNA
Traditional saunas are usually a wood-lined room, heated with a wood-burning or electric heater. The temperature is typically between 70–100 °C. Water is often thrown on hot sauna stones; when the water vaporises, it creates a steamy sauna bath. Depending on how many stones there are in the sauna heater, the sauna bath will be either hot and sharp or moist and gentle.
Layout Options
Block Sauna Cabin
Indoor Sauna
The Harvia Block sauna cabin is custom made to match your desire. Thanks to the innovative structure, the Block sauna is extremely easy to assemble. We combined the finest materials with a revolutionary structure to guarantee your relaxation before and after heating up your sauna.
Features
Block sauna cabins can be tailored to fit your premises and taste, there is also two standard sizes available
Extremely fast installation
Mix and match the panel of your choice (alder, aspen, heat treated aspen, or heat-treated brushed alder). Spruce is available for non-visual surfaces
Open and spacious feeling with high quality black framed tempered glass. Improve your sauna's look with one or two glass corners
Enhanced insulation
Additional RGBW Led lights in horizontal or vertical orientation
Available as a hybrid sauna
Product Details
High performance (PIR insulation) for energy-efficiency
Glass walls are made of single pane 8mm tempered glass
Depth and width can vary from 1.3m to 2.5m
Block benches are equipped with sturdy 42×66 spruce frames
Wall thickness ca. 100mm width
Sauna heater sold separately
Contact Us for More Information
Layout Options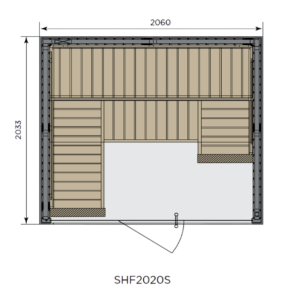 Fenix Sauna Cabin
Indoor Sauna
The Harvia Fenix sauna is an ode to ancient sauna culture. The dark design is inspired by the traditional smoke sauna, with light benches adding a modern edge to the look. Harvia's Fenix prefabricated saunas are equipped with a large, impressive glass wall. With the optional RGBW LED lights, you can easily create a different atmosphere in the sauna, making each experience unique and new.
Features
Element cabin made of black treated spruce
Roof element with roof rim
Formula sauna interior made of aspen wood
1 x 600mm bench and 3 x 500mm benches
Ventilation slit , backrests and intermediate bench panel included
Optional RGBW led lights
Layout can be installed in right or left orientation
Product Details
Glass fiber insulation with aluminum foil vapor barrier
Door made of single pane safety glass (600 x 1897 x 8mm) left or right hinged
2 x single pane safety glass elements, clear (629 x 1939 x 8mm)
15mm sturdy black treated tongue and groove boards
Wall thickness ca. 75mm width
Sauna heater sold separately
Contact Us for More Information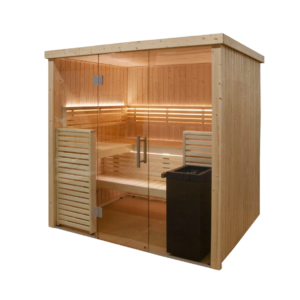 Layout Options

Variant View Sauna Cabin
Indoor Sauna
The variant View Sauna is an easily assembled standard sauna cabin with customisable bench layout options. High quality large glass walls on the front, let in natural light and create an open and spacious feeling. A warm and inspiring ambience can be instantly created with the optional DMX controlled colour lights. Both exterior and interior walls and ceiling are made of natural spruce and benches are made of light aspen.
Features
Modern Finnish design with vertical spruce wall panelling
Easily installable standard sauna cabin
Full glass front let in natural light and create spacious feeling
Optional RGBW LED-Lights creates inspiring ambience
Bench layout can be installed in right or left orientation
Product Details
Formula benches made of aspen wood
External and internal panels made of spruce
Fiberglass insulation with aluminium foil vapor barrier
High quality full glass front made of single pane safety glass
Sauna heater sold separately
Contact Us for More Information
Layout Options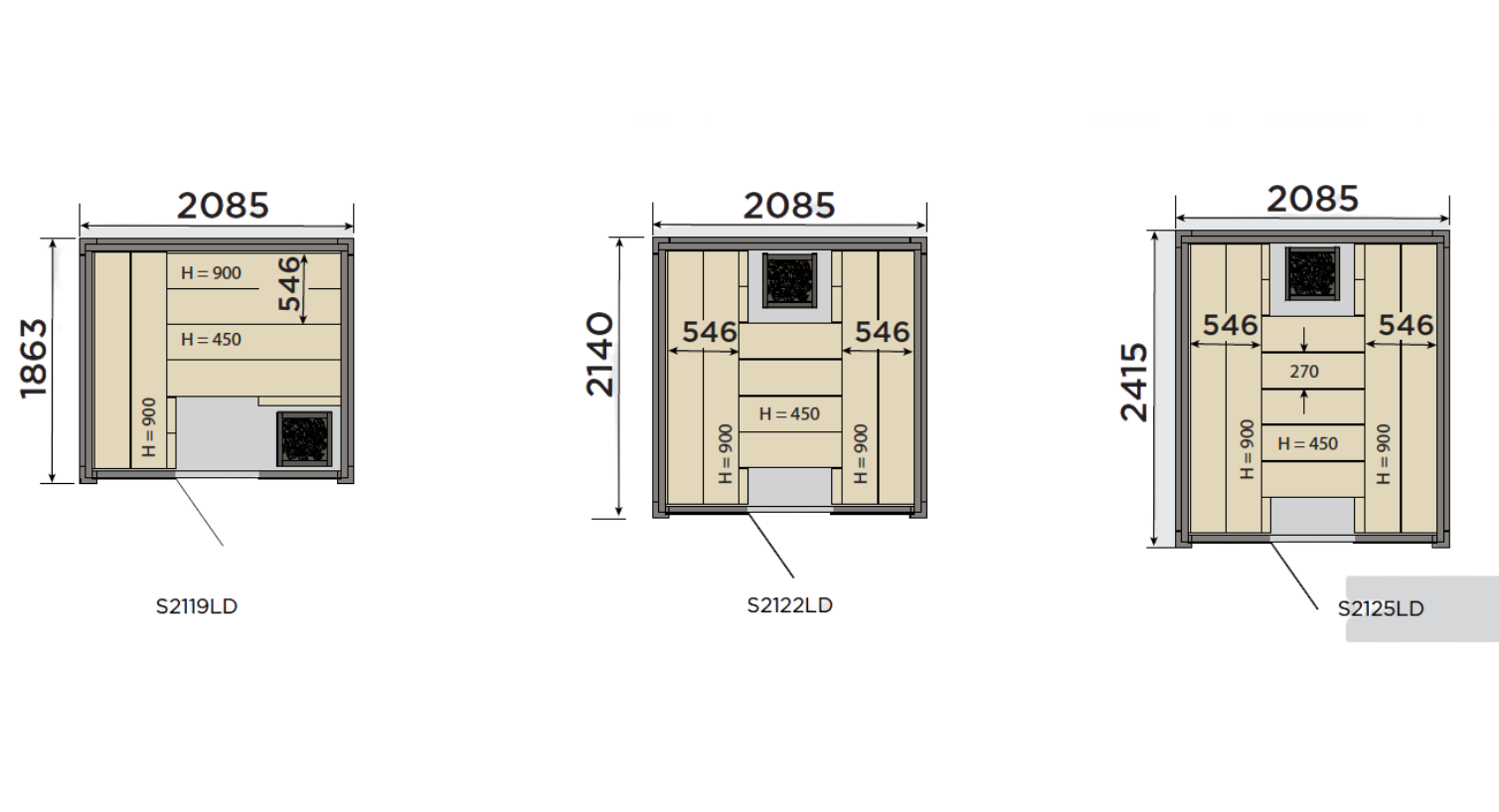 Solide Sauna Cabin
Indoor Sauna
The Harvia Slide sauna cabin combines long sauna traditions with a fresh and modern design. You can surface-treat the sauna with the shade of your choice to ensure a suitable look for the interior of your home
Features
The surfaces can be treated with tinted sauna finish/ wax or left untreated to emphasise their pale spruce colour
The bench options include a continuous bench and single sauna seats that are easy to move
The indoor sauna installation packages includes wall and ceiling beams with finished wood surfaces, windows, glass doors, a Harvia vista HL110 electric heater with Harvia Xenio XC110 control unit
Pail and ladle set as well as Harvia Legend sauna lights are also included in the delivery
Stone wall as additional option
Product Details
Element cabin made of 56mm GLT (glue-laminated timber) spruce. Walls and ceiling non-treated
The benches are made of 42mm GLT spruce and are tailored to the dimensions of the sauna
Solide benches can be stained to black, white, gray or left to natural wood colour
Glass walls are made of single pane 8mm tempered glass
Contact Us for More Information
Layout Options

Sirius Sauna Cabin
Bathroom Sauna
Features
Harvia Sirius is a compact and modern bathroom sauna model that seats up to 2 persons, and is delivered as a pre-installed sauna kit thats's easy to assemble and does not require electrical wiring
Sirius features large glass wall and a glass door with at all door handle, and light colored alder wood benches and wall panels
The outer walls are water resistant and can be used as a shower wall
The outer wall can also be decorated with tiles or wallpaper to match the bathroom's design
Product Details
Standard deliver with Formula benches and panelling in alder
Alternative wood material for Formula: aspen
Alternative panelling: aspen or with additional price heat-treated aspen
Vega Compact BC35 Sauna heater and steel accessories set: bucket, ladle and thermo-/hygrometer included in delivery
Optional accessories include fiber optic lights, decorative wooden lattice and side cover
Contact Us for More Information
SmartFold Folding Sauna
The SmartFold folding sauna is an innovative space saver, that saves a considerable amount of floor area compared to conventional bathroom saunas. The safety equipment ensures that the heater only switches on when the sauna is unfolded. The Unio heater is specifically designed for this sauna, providing heat from top to bottom, and is included in the delivery.
Contact Us for More Information
Layout Options

Solide Compact Vision Sauna Cabin
Outdoor Sauna
Features
The Harvia Solide Compact vision is a compact-sized and bright outdoor sauna
Solide Compact Vision seats up to 4 people
The large windows together with a lockable glass door bring natural light beautifully into the sauna
Easy and quick to assemble even in a day
Light-colored spruce benches
Product Details
Constructed of thick 40mm spruce beams, and the exterior walls can be painted in the your of your choice
Window material: 2 x Double pane glass (4mm + 4mm tempered glass), space between glasses 8mm
Door glass: Double pane glass (4mm + 4mm tempered glass), space between glasses 8 mm
Sauna foundation made of pressure impregnated timber
Wood-burning heater recommended
Contact Us for More Information
Gallery